What I do with my time shows what is important in my life. Do I fritter time away on the internet? Waste time watching tv? Read books when I need to be cleaning? Straighten closets when I need to play with my little boy? Find busy activities when I need to spend time with my husband? No matter what my words say my actions will show what's true.
I am trying to be more purposeful with my time. Spend time wisely on the appropriate activity. Hopefully none of my activities are wrong, but they may be wrong when done at the wrong time. It helps me to have a schedule and know what I am trying to accomplish when. Am I studying my Bible? Ok, I need to remove all distractions, including that temptation to go to sleep. Am I spending time with my husband? Ok, step away from the computer and look at him! Am I playing with my little boy? Ok, stop thinking about all that needs to be done in the house. Make a list and take care of it later.
It's amazing how many things I can fit into my schedule. I can get so much done just by thinking about why I am doing something and when's the best time to do it. We are only given so much time. And we are all given the same amount of time. What are you doing with yours?
"See then that ye walk circumspectly, not as fools, but as wise, Redeeming the time, because the days are evil. Wherefore be ye not unwise, but understanding what the will of the Lord is." Eph. 5:15-17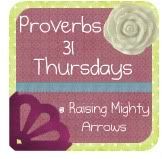 >