I love being a stay-at-home mom! It has challenges but tons of blessings as well! Justin and I try very hard to keep a simple schedule, especially mine and Micah's. It revolves mostly around church services and naptime. :) Occasionally though, life gets pretty crazy! And I'm always thankful at those times that it's not typical for us.
When I'm not home:
1. My home is not cared for properly. I skip my weekly cleaning and daily tasks. Then I get stressed out trying to catch up.
2. I'm not training my son. Public places are not optimal for training toddlers. Toddlers are distracted and they lack a safe place to play and learn.
3. My husband is inconvenienced. My husband is a great man! And I want to take care of him! If I'm not here, I can't do that. One of my priorities is to be here to fix him lunch and supper or take it to him if he needs me to.
This is not a comprehensive list but it's a good start. That's why my husband and I agreed a long time ago that we would make my being home a priority. I'm very thankful for the work God has given me and I want to do it to the best of my ability!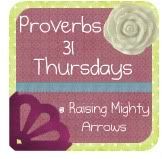 >