It's November already! Wow! Of course that means that Thanksgiving will be here soon. :) Some of my Facebook friends are listing one thing each day that they are thankful for. There are some great things to read in the news feed as people are praising God for the blessings He has given them. But what if we couldn't list out for others what we are thankful for? What if they had to be able to tell from our lives?
For example, my first four would be
1. My heavenly Father
2. My wonderful husband
3. My favorite little boy
4. Our new home
God would rather we lived our thankfulness than talked our thankfulness. Although I don't think He minds that either! But how would living our thankfulness change our lives?
Perhaps we would serve our Heavenly Father? Attend church, dig into our Bibles, spend time in prayer, go soul-winning, use our talents for His glory. God deserves our best, our all.
Perhaps we would serve our husbands and build them up? Encourage and strengthen them instead of complain and criticize? Spend time laughing and building memories. They should know they are number one to us!
Perhaps we would be more patient with our child(ren) and spend time with them. Spend time playing and teaching them things. Spend time reading. Not complain about the things we can't do because we have children or about how they irritated or inconvenienced us. They do hear us.
Perhaps we would use our home for God's glory? Build an atmosphere of love, be hospitable, have the same "face" at home that we have at church or at work. Not complain about the quirks or about cleaning it. Make home a place that our families love to be.
This month I am going to focus on whether or not I am living out my thankfulness as well as speaking it!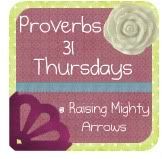 >