This year has been a waiting year for us. We've been waiting for reasons that we can't control and I don't know how long we'll have to wait. I don't have any tips to make waiting easier. Who likes to wait? But I can tell you what I determined while I have been waiting.
1. I will remain settled. I am going to keep doing exactly what I'm supposed to be doing regardless of what happens. I'm not going to stop serving God and pout. I'm not going to stop growing in an area and say "Oh, I'll pick it back up when ..... happens."
2. I will keep growing. I'm going to keep working toward my goals. A change in circumstances will not change my character or my habits. Hard work done now will change those. I don't want to put myself on hold and waste time that I will never recover.
3. I will put my mental effort into "now." Instead of thinking about how I will do things "when," I strive to tweak or modify how I do things now to make them/me more effective. If my methods won't work in five years (or five months), that's fine as long as they are working for me now. I can adjust later as life changes.
4. I will be thankful. God has blessed me with so much and I deserve none of it! My attitude will honor Him when I am thankful for what I have instead of complaining about what I want and don't have.
More than likely the things we are waiting on now will happen. Probably sooner rather than later at this point. But you know what? We'll probably be waiting on something else then! I don't want to get to the end of my life and realize that I was discontent and always wanting something else. I choose to enjoy now.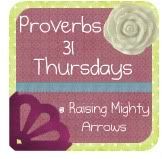 >