Pies always seem so intimidating, but aren't they amazing? And homemade is always better than store-bought! Just remember you need to practice; they get better because you learn to work faster. Your dough does best when you handle it least. So don't give up!
Pie Crust: this will make a top and bottom layer, plus a little extra
3 cups all purpose flour
1/2 teaspoon salt
4 tablespoons sugar
2 1/2 sticks butter, chilled and cubed (terrible, but it makes it delicious!)
6 tablespoons cold water
Filling:
3-4 cups frozen berries, thawed
1 1/2-2 tablespoons cornstarch
2-3 tablespoons sugar (sugar to taste)
1 egg yolk, beaten with 1 tablespoon cold water
(You can get by with a 3 cup bag of frozen berries, but if you have more, excellent! And you can use fresh berries but you need to increase the amount of cornstarch you use. )
Preheat oven to 400 degrees.
Cube your butter and place in bowl in the freezer while you measure and mix your dry ingredients. You want the butter as cold as possible.
Combine the first three ingredients in a food processor and pulse once. Remove butter from freezer and and mix into flour mixture until just combined. Do not overmix. You should have very small lumps of butter in the flour. Measure the water by tablespoonfuls into the processor while it is on.
Dough will not completely combine. Place on floured surface and knead quickly until dough pulls together. This should take about a minute.
Shape dough into a flattered disc and wrap in plastic wrap. Place in refrigerator for an hour. This will allow the butter to get very cold again. Very cold butter is the key to a flaky pie crust.
When the hour is up, combine thawed berries with cornstarch and sugar. Set aside.
Roll 2/3's of the dough to 1/4 in. thickness. Cut the dough one inch around the pie pan. (See above picture.)
Gently fit dough into the bottom pie pan.
Fill bottom crust with berries.
Roll remaining dough into a circle. Place on top of berries and pinch off overhanging dough. Shape crust with fingers.
Don't throw away these dough scraps!! Gather them into a ball, wrap in plastic wrap, and freeze!
I'm getting a collection of dough scraps. When you end up with a little fruit, make a filling and place in ramekins. Thaw and roll out dough to cover ramekins. Brush with egg and bake! Yummy. And so easy!
Brush dough with egg and water. Only a very thin layer, you don't want scrambled egg on your pie. Cut slits in pie crust with sharp knife. Bake pie until the pinched crust around the edges starts to brown.
Now I had a problem. Obviously I had to cover the edges with foil but have you ever tried to do that?? I was very frustrated so I called my husband over. (I should point out that my husband is the genius in our relationship. Really.)
So cover the whole thing in foil, covering the bottom so that it doesn't shift. (This will not affect the way your bottom crust bakes.) Then using a sharp knife, cut the foil right inside the pinched edges of the crust and remove circle of foil.
See? I told you he was a genius! Place back in oven and bake until the remainder of the pie crust is browned.
It should look something like this!
Now go eat your pie! Just not too much or you'll need to go run to continue fitting in your clothes.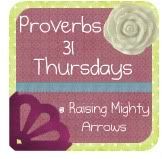 >